By Campion Decent. Lambert House Enterprises. Directed by Les Solomon and Campion Decent. Fringe HQ Newtown. November 10-20, 2021
Reviewed : 11 November, 2021
It is an opportune time for a revival of this historically significant play by Campion Decent. First staged in the 1990s, Three Winters Green pays homage to the deadly and lasting effects of the AIDS pandemic. It is thus a very timely reminder that COVID is not the only pandemic that has stalked and devastated the world in recent times.
It is also timely that this production coincides with both the opening of the monument to victims and survivors of LGBTQIA hate crime – AND the much belated NSW government inquiry into the gay and transgender attacks and murders that were rife – but officially 'ignored' – in the last decades of the twentieth century.
Les Solomon certainly chose the right time to a reproduce a play that documents a sadly significant time in our history.
On the open, Fringe HQ stage, a five-metre-high AIDS red ribbon of remembrance constructed by Steve Wimmer is the starkly symbolic set. It hovers as a constant aide-memoire as Decent, Solomon and their loyal, lockdown cast bring the characters of  Three Winters Green back to life.
Central to the story is Francis and his struggle to be true to his sexuality despite the world around him. He is open, gentle, confident, persistent – yet consistently censured and condemned. It is a big role that takes Francis from school to the stage, from optimism to despair, from love to illness. It is a role that Sebbie Thornton Walker plays with tightly controlled inner strength and energy – and unrelenting belief. She contains the character, exposing all its pain and sensitivity, yet rejoicing in its positivity, joy and trust. Her Francis is expressive, compassionate, empathetic … and harrowingly real.
Samuel Welsh is Joseph, the teacher to whom Francis reaches out with recognition. The teacher who can't help but be encouraging, but who also hurts by rejecting. Welsh shows Joseph's difficult inner struggle, wavering between attraction and fear, temptation, and self-preservation.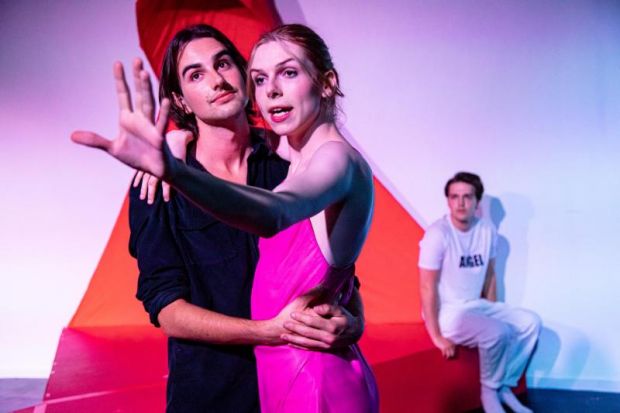 Tom Kelly doubles as two very different characters. As ocker-ish, blusteringly macho Mick, he is larger than life, sprawling untidily, unwarily invading personal spaces and constantly punctuating conversations with a stunned "bugger me". By contrast, he plays troubled, gay Martin with gentle grace, treading his difficult path with lighter steps, calm composure and touching acceptance.
Andrew, in whom Francis eventually finds a few short years of happiness, is played by Ben Jackson. Jackson, too, treads the stage lightly, poignantly underplaying the role to achieve credible sincerity and compassion.
Maddison Silva plays Martin's lesbian sister, Beck. Julia Muncs is her partner, Jen. Confident in their sexuality their relationship provides a juxtaposition that Martin – and Francis – are not able to enjoy.
Norah George, as Martin and Beck's mother, Maxine is the token parent. Bewildered and cross because neither of her children are 'straight', she moves from denial to reluctant acceptance and alcoholism and prayer to a God that cannot save her son from a disease that kills so hideously.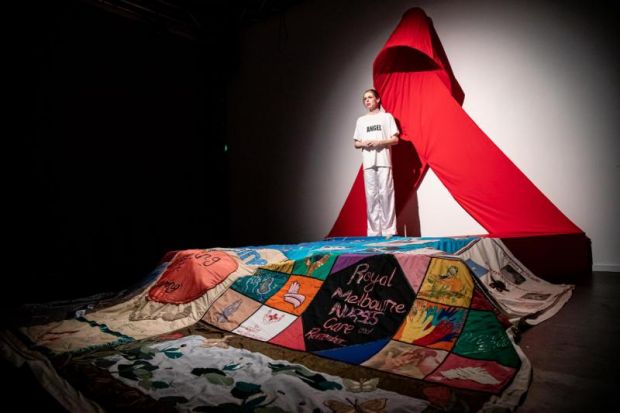 Together these actors reignite a time that should not be forgotten. Under the sensitive  direction of Decent and Solomon, they bring to life characters and situations that are gut-wrenchingly sad and historically real yet are presented in a way that is as tender as the way the cast opened the AIDS Memorial Quilt in the last moments of the play.
They remind us that this is not the first time we have gingerly ventured out of the shadows of a diseased world, and that we should take care – "But for fuck's sake … smile". (Francis –  Three Winters Green).
Photos : David Hooley
Also published in State Whispers magazine.