By Jonathan Biggins, Drew Forsythe and Phil Scott. The Wharf Revue 2021. York Theatre Seymour Centre. 23 Nov – 23 Dec 2021
Reviewed : 26 November, 2021
"Here once more without the wharf we had before!"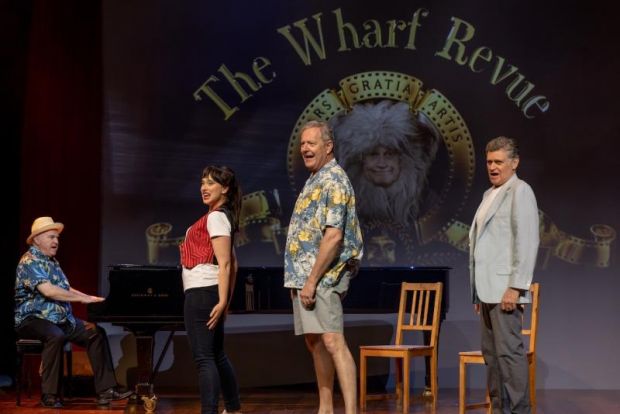 No longer at the Wharf, but at the York Theatre at the Seymour Centre, The Wharf Revue team swing into the opening number of their new show. Will a change of venue matter! It's highly unlikely. Their faithful audiences have been following them around the state for twenty years for a plethora of reasons. Their biting, acerbic satire for a start! Their intellect and acuity! Their wide experience across the arts: writing, acting, composing, performing.
Jonathan Biggins, Drew Forsythe, Phil Scott and Amanda Bishop use a sharp, penetrating corkscrew to open this Can of Worms that pans policies, politicians and pundits, past and present. The material is clever, cutting, funny, facetious, and always just a little bit serious. The production is precise. Multiple sketches, characters and costume changes demand split second continuity … and the ability to sustain the necessary fast tempo that makes revue work.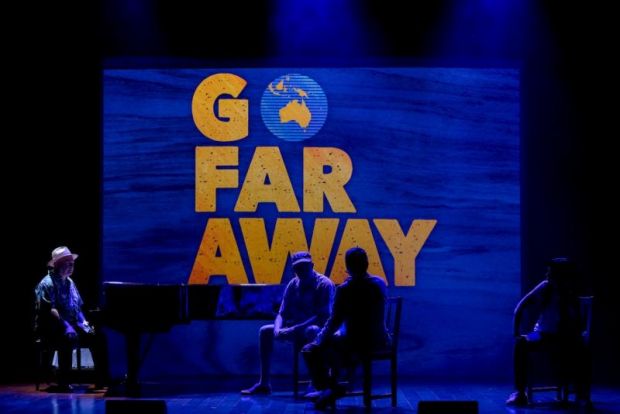 The first sketch, "Go Far Away", is one that hits hard. It poignantly commemorates the 20-year anniversary of the 'Tampa' debacle, our cruel rejection of the survivors, and their detention on Christmas Island – a very different "Welcome to the Rock" than that portrayed in Come From Away.
The pandemic and climate change provide plenty of material. Harvey Norman is roasted for his "Job Keeper Bonanza", and Craig Kelly for his corona conspiracy voicemails. The Nats take a tour of Barnaby Joyce's coal mine 'mancave'. And the National Cabinet on Zoom gets a 'gig' as the Muppets.
Bob Carr in a red, silk smoking jacket and suitably deep voice advises of diplomacy with China in a carefully metred parody of Coleridge's Kubla Khan that acknowledges the building of Xi's "stately pleasure dome", but also decries the "ancestral (Duttonian) voices" and their prophesies of war.
Jacqui Lambe gets a hilarious "gutful", as  does  Michaelia Cash, and a hesitant, hard-done-by Gladys Berejiklian asks: "Why did Bob Carr get the Olympics and I got a pandemic?"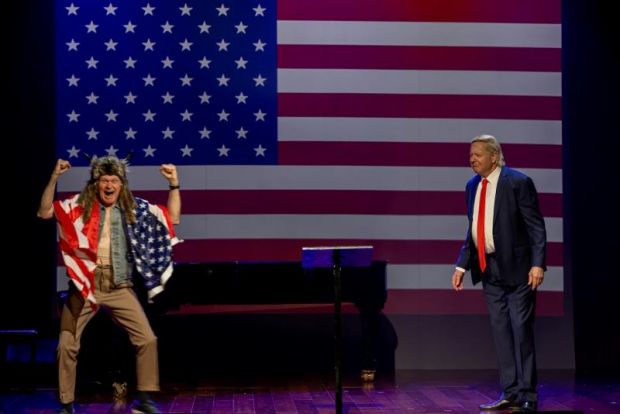 Though Joe Biden warns that Donald Trump is a "clear and present danger ",  the "exiled President" returns with The Trump Family Singers, who are not going to say "farewell".
It wouldn't be a Wharf Revue without Pauline Hanson and Mark Latham getting a serve, or Kevin Rudd ingratiating himself. Rupert Murdoch meets up with Mephistopheles and the Queen bemoans yet another "annus  horribilis".
There is much more – too much to record, too much to mention – all clever, all brilliantly conceived, all skilfully performed, all packed into a fast-paced hilarious 90 minutes that finishes with a closing parody on The Wizard of Oz, with Dorothy and Toto trying unsuccessfully to borrow enough to buy 'the Oztralian dream':
If baby boomers once could buy a family home
Then why, oh why can't I?
Biggins, Forsythe, Scott and Bishop are polished, multi-talented performers. They are also  perceptive thinkers and cunning observers. They are a great team – and it's good to have them back.
Also published in Stage Whispers magazine
Photos : Vishal Pandey