By Deborah Brevoort. Castle Hill Players. The Pavilion Theatre. July 21 – August 12, 2017.
Is it possible that we may, some day, come to take acts of terrorism as facts of life?
Will they simply become another chapter in a history book?
Will we forget those whose lives were lost, or how horribly they died?
Not if theatre sustains its centuries old objective of finding a way to reflect on and interpret the world on the stage.
In The Women of Lockerbie, playwright Deborah Brevoort confirms that tradition – and Bernard Teuben's production for Castle Hill Players ensures the beautiful language and carefully drawn characters of her play make the messages of Lockerbie endure.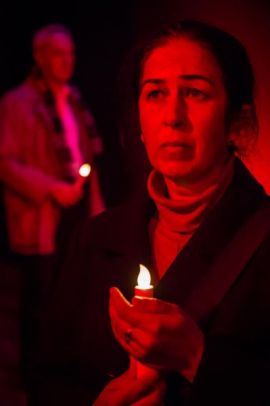 The Pavilion Theatre stage becomes a frosty night on the hills of Lockerbie. It is the winter solstice, seven years exactly since Pan Am Flight 103 from Frankfurt to New York was blown up over the town, killing 243 passengers and 16 crew. As the wreckage rained down over Lockerbie, buildings were destroyed and 11 villagers killed.
Tonight, as the villagers keep their annual vigil, paying homage to those who were lost and those who were left to mourn, a still-grieving American mother searches the hills of Lockerbie for some sign of her son, whose body was never found.
Read the full review in Stage Whispers magazine, here.
Save